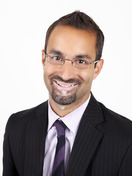 Mar 18, 2016
After coming in for my first Botox injection I am now windering why did I wait so long??!! Services are offered by a personable, knowlegable and professional team. Dr. Ridha spends quality time answering questions, providing information and is genuinly invested in the safety and well being of his patients.
Posted By: Sandra
---
Oct 8, 2015
Dr. Ridha is absolutely fantastic. He spent quality time discussing cosmetic and surgical options and then provided an indepth description of the procedure and recovery expectations. The assistants, manager and front desk people treat you like royalty. This practice is the one place that you can literally close your eyes and trust your face, safety and beauty to.
Posted By: Francisco B.
---
Sep 23, 2015
Barb gives an awesome facial. I have very sensitive skin and she knows exactly how to treat it.
Posted By: Kathy M.
---
Sep 4, 2015
So nice everyone here at this office . The doc has such a good soul .it worth coming and talking to to him .he is the coolest i am looking forward becomin and looking good ty doc

Posted By: B S.
---
Aug 10, 2015
Dr. Ridha has such a wonderful ora. He made us feel relaxed and at ease. His personality was oiutstanding. He did such a great job on my husbands face. He performed with such confindence. Thank you. I can not begin to tell you how great he was.
Posted By: Polly S.
---
May 13, 2015
Karen at Dr Rhidas office
, her Signature Facial was remarkable. Highly recommend. Full value worth!!!!
Very satisfied customer
Posted By: Happy C.
---
Mar 27, 2015
Dr Ridha sewed me up in the ER after a skiing crash. He did a beautiful job and my colleagues were impressed with his skill.
Posted By: Lindsay F.
---
Mar 24, 2015
Amazing staff and service.
Posted By: Joanne B.
---
Mar 23, 2015
Currently getting the Brazilian laser hair removal treatment by Barb. Barb is wonderful and I can't say enough good things about her. I have had 2 treatments and there is already a huge difference! Instead of shaving everyday i am only shaving once or twice a week! I highly recommend there service to anyone!

Posted By: Justine
---
Feb 27, 2015
Dr. Ridha just gets more amazing all of the time. I just had botox injections in my glabella and I didn't feel a thing. He uses the finest needles for the comfort of chicken patients like me!
Posted By: Ingrid
---
Feb 10, 2015
...so thrilled with my results! I couldnt be happier. If you are thinking about any type of improvement, this is the place to be.
Posted By: Patty M.
---
Feb 7, 2015
Absolutely amazing! After only one hair laser removal treatment, I noticed a significant difference in the amount of hair that did not come back. The europeels are fantastic. And, the staff are very friendly!
Posted By: Michelle S.
---
Jan 30, 2015
Dr. Ridha is a true professional. I was concerned about looking "overdone" following breast augmention. My results exceeded my expectations. His staff is amazing and always willing to go the extra mile to provide supurb customer service.
Posted By: Kim W.
---
Jan 28, 2015
I was very pleased with Dr Ridha and his very professional staff. Everyone there makes you feel so welcomed. Dr Ridha was very easy to talk to about the different opitions that were available to me. Angela is great, so helpful with any issues or concerns that I may have had. I would definitely recommend this office.
Posted By: Donna G.
---
Jan 2, 2015
I cannot be more pleased with my first experience with Dr. Ridha. Having had injections before, I knew what to expect. Not only did Dr. Ridha leave me with no bruises, it was completely painless! He completely explained in detail each option and took his time. The staff was so unbelievably warm, knowledgable and friendly. I definitely will make the trip from Orlando to see Dr. Ridha for my next injections.
Posted By: Alama F.
---
May 23, 2014
Jenny is very professional and knowledgeable.
Posted By: Mary B.
---
May 23, 2014
Jenny is proessional and knowledgeable.
Posted By: Mary B.
---
May 21, 2014
The entire staff at Dr. Ridha's treated us with positivity, enthusiasm, and respect during our multiple visits. The professional way were greeted as we walked through the door made us feel welcome. Michelle and Angela are outstanding and perform their jobs with professionalism and compassion. Our infant daughter got the best care possible and is well on her way to recovery because of the outstanding care Dr. Ridha provided. His knowledge, ability to listen, and generosity made this difficult experience a positive one.
Posted By: Adam B.
---
May 14, 2014
Dr. Ridha and staff are excellent! I will be back for more treatments. The entire staff is so kind and first rate.




Posted By: Carol C.
---
May 7, 2014
Dr. Ridha is so pleasant and kind. Hes very calming and professional. I really appreciated him during my visits.
Posted By: Becca S.
---
May 5, 2014
Dr. Ridha and all his staff were remarkable! Would highly recommend this practice to anyone. Thank you for everything... Pam washburn
Posted By: Pam W.
---
Mar 31, 2014
Dr. Ridha is a consumate professional. In all of our visits to his office he has displayed exceptional knowledge of his specialty. His enthusiam for his work and attention to detail are welcoming characteristics not often found in many doctors. He strives to provide his patients with the best care and expertise. Our experience with the staff, in particular Michele and Angela, has been great. They strive to provide a safe, professional, comfortable, warm & inviting environment. We highly recommend Dr. Ridha and his staff to patients seeking plastic and reconstructive surgery.
Posted By: Mel R.
---
Mar 28, 2014
Dr. Ridha is amazing! I orginally went to him for fillers and ended up getting a the smart skin laser and they both did wonders for me! He is very caring and articulate, the staff is amazing and they both did a wonderful job accommodating me! I would highly recommend this office for any treatment youre interested in.
Posted By: Cindy M.
---
Mar 27, 2014
Every experience I have had with Jenny has been wonderful! She is detail oriented, knowledgeable, professional and very friendly. Upon meeting her for the first time, I knew I would be a repeat client. I have already recommended her to my family and friends.

Posted By: KAH
---
Mar 25, 2014
Great results from an excellent aesthetician! Professional and engaging. I would recommend Jenny to anyone.
Posted By: April
---
Mar 25, 2014
Jenny has been wonderful!! She is very knowledgeable as well as helpful in answering questions etc, She makes me feel very comfortable in the office and at ease. I love all the products she recommended as well.
Posted By: Charlotte D.
---
Mar 25, 2014
Jennifer knows so much about skin care and treatments that i always know im getting exactly what my skin needs. They dont push extra services or products on you, they just truly want you to be happy with your service and/or products. I started with laser hair treatments (amazing!) and now get facials and products from them. I can trust them and they provide top of line treatments! Michelle at the front is very helpful and you enjoy coming here! I strongly recommend them. I was a sceptic until i came here.
Posted By: Amanda A.
---
Mar 24, 2014
Dr. Ridha and his staff were always very helpful and caring. They always seemed genuinely concerned about any questions or concerns I had and took the time to resolve and explain any issues. I would recommened him to family and friends and definitely return in the future if needed.
Posted By: Kirstie T.
---
Mar 19, 2014
I met Dr. Ridha when working with him in the OR. His surgical talent is very impressive, always working to produce the best result possible. Not only is he a great surgeon, he also has a very attentive bedside manner with his patients that is so appreciated.
Posted By: Susan R.
---
Mar 19, 2014
I am very happy with all the care that I received while being treated by Dr. Ridha and his wonderful staff. Thanks again for everything.
Posted By: Damian K.
---
Jan 29, 2014
He does excellent work with very natural results and he listens and is quite attuned to my concerns and questions. The staff is warm and reassuring and informative as well.
Posted By: J B.
---
Jan 29, 2014
Dr. Rhida has been a huge help to me and my brother the past few years. Its been really easy to work with him.
Posted By: Kelton D.
---
Jan 13, 2014
Doctor Ridha and his staff are some of the freindliest and most professional group that it has been my pleasure to deal with. I was greeted by a friendly receptionist and was treated without ant waiting.

I would recommend Dr Ridha's group without hesitation.




Posted By: Gabriel C.
---
Jan 13, 2014
I,m so very pleased with the results here at Dr Ridhas! His skill in the ER saved my foot after an accedent with a chain saw. A the whole staff here is so pleasent and helpful!
Posted By: Kevin P.
---
Jan 8, 2014
Everything about the visit went well. Dr. Ridha and Angela answered questions thoroughly and without rush.
Posted By: Meg H.
---
Dec 10, 2013
My favorite place to go,ive never been treating so special,and being in the hair and makeup field i can respect the greatness of it,jennifer camper has transformed my skin,i cant believe it,I would drive 2 hours just to come here ,feeling blessed <3 <3
Posted By: Theresa H.
---
Dec 9, 2013
I havt been so amaazed with whole process. I expected my arm to be a whole lot sorer than it was. The whole staff has been so nice and heipful. Everyone was great answering my questions they always got right back to me within a short time. Thankyou so much
Posted By: Sharon Q.
---
Nov 12, 2013
Very professional, yet very friendly, michelle and angela are dolls.
Posted By: Ronald S.
---
Oct 30, 2013
Very nice, was given a difficult injury to fix. He was very professional even after getting a rough blow from the insurance company. All staff was always very friendly.
Posted By: Lorrie S.
---
Oct 10, 2013
Jen is amazing. Always friendly and professional. Wish I found her earlier!

Posted By: JT
---
Sep 25, 2013
Fabulous office- professional, friendly and accomodating. Dr. Ridha takes time to explain the rationale for his recommendations and thoroughly answers all questions!
Posted By: Mary S.
---
Sep 20, 2013
Great, highly recommend Jen, she is professional and personable. Go to her, if you want great skin.
Posted By: Linda
---
Aug 28, 2013
Love love love the treatments, facials and staff.....
Posted By: Jamie
---
Aug 26, 2013

Met Dr. Ridha in the emergency room following a hand injury. So glad he was there that day. He was efficient, professional and so capable. The follow-up also inspired confidence . All and all an unexpectedly "painless" experience.
Posted By: Mrs. C.
---
Aug 26, 2013
I had scar tissue removed and they made it as easy as possible. The emolyees are extremely friendly and i look forward to my visits
Posted By: Meghan M.
---
Aug 26, 2013
Im very pleased with my treatment with Dr Ridha! I would recomend his office to all.
Posted By: SJV
---
Aug 6, 2013
Friendly and informative staff. Amazinng comprehensive service. They always make you feel comfortable. No pressure to buy. Knowledgeable about products and procedures to help youndetermine the best options for you.
Posted By: Amanda
---
Jul 1, 2013
Just when I thought life was over because my plastic surgeon retired ... I found Dr. Ridha and staff !!!
Dr. Ridha is a true professional ... calm, friendly, knowledgable, and highly skilled. He graciously listened, assessed, and performed his magic to my face. I am a smiling, revived, and extremely pleased new client !


Posted By: Elaine W.
---
Jul 1, 2013
Dr. Ridha is a fantastic surgeon! The staff is very proffesional and friendly. It has been a great experiance!

Queensbury, NY
Posted By: W
---
Jun 17, 2013
Very straight forward and simple. Minimal discomfort during the procedure.
Posted By: Joe G.
---
Jun 14, 2013
Jennifer has done a wonderful job with my skin. I came to the office with a horrible in grown hair in between my eyebrows. I had tried everything to get rid of it and nothing was working. Laser hair removal was my last resort. With just one treatment from Jennifer, the spot was already improving. I am going on my fifth treatment and I am so happy with the results! Jennifer also gave me wonderful products to use on my sensitive skin and they are working miracles!
Posted By: Elizabeth B.
---
Jun 12, 2013
Dr. Ridha and his staff are so kind, compassionate and friendly. Dr. Ridha takes his time with you and makes sure you understand everything completely. I can't say enough about the great service and compassion you recieve as a patient of Dr. Ridha.
Posted By: Jen R.
---
Jun 12, 2013
Reseption girls are very friendly all questions were answered by the doc. Very helpful
Posted By: Josh B.
---
Jeffrey R. Ridha, MD, FACS is a board-certified plastic surgeon in practice in Saratoga Springs, NY. His practice provides boutique-style care and offers patients a full range of cosmetic and reconstructive surgical care.
Dr. Ridha's special areas of interest include: breast surgery and body contouring, as well as hand and facial trauma. In addition to surgical care, Dr. Ridha offers several types of minimally-invasive and injectable procedures to help his patients meet their goals. The office also carries comprehensive skin care lines from Obagi and SkinMedica.
Jeffrey R. Ridha, MD PC
72 Railroad Place
Saratoga Springs, NY 12866
518-306-5466
Get Directions
---